How to maximise your tax refund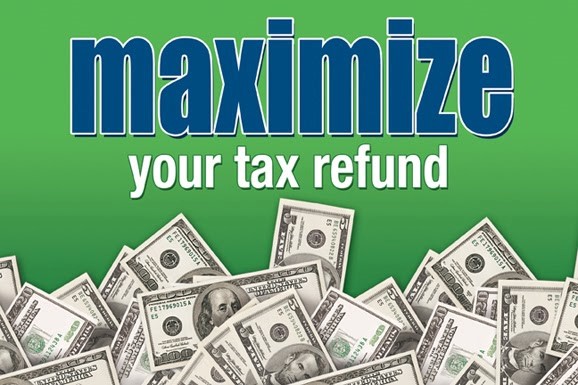 Everyone wants to get maximum tax refund but always make sure before claiming lots of expenses try to claim for legitimate expenses. There are few tips mentioned under as below which helps an individual to increase their tax refund.

Working from home: If you are working from home do not try to claim your household expenses into your tax return. The expenses which you can claim while working from home are for example cooling, heating, lighting of the home office room, cost of stationery, cost of telephone and internet usage. Home office room must be a separate room and from the household use.
Don't Exaggerate: Do not try to exaggerate your expenses, always claim for the genuine expenses and for which you can give the proof and receipt. In few cases, ATO also penalize people for not taking proper care while claiming excessive expenses.
Always remember the basics: Sometimes a small mistake can also hold up your return for a long time, if you provide wrong spelling of your name or miss out your middle name or date of birth. So always make sure, you provide the correct information that matches with the ATO portal or else you won't be able to get your money.
Act actively and organize your proof of work related expenses: Before tax time organize all your documents and receipts in good way that it will be easier for you to find it during tax period otherwise you will keep looking for your receipts and won't be able to find out some of them. This may end up claiming less expenses and you will lose some dollars.
Use a tax agent service (like MYTAXREFUNDTODAY): Tax agents are the experts who always ready to help the people to boost their refund without having any legal issue from ATO. ATO job is to collect the taxes from people and agents job is to provide good refund without any trouble.
Spend on the small things: Small donations can also help you to increase your refund such as $10 or $20 can also make a huge difference in your refund and you can claim all amount of donation in your deductions, which is tax deductible.
Studying expenses: If you are pursuing any studies related to your current job to gain more skills and knowledge, you can claim these expenses. There are certain conditions like after finishing the course there must be an increment in your salary, should linked to your job and definitely there must be an improvement in specific techniques required in your current employment.
Fill in the form HERE to have an expert will call you and get your same-day refund*, or if you have an questions relate to MyTax 2018 and mygov, Online tax return 2018, you can contact us by calling 1300 698 297 Or email us at info@mytaxrefundtoday.com.au.